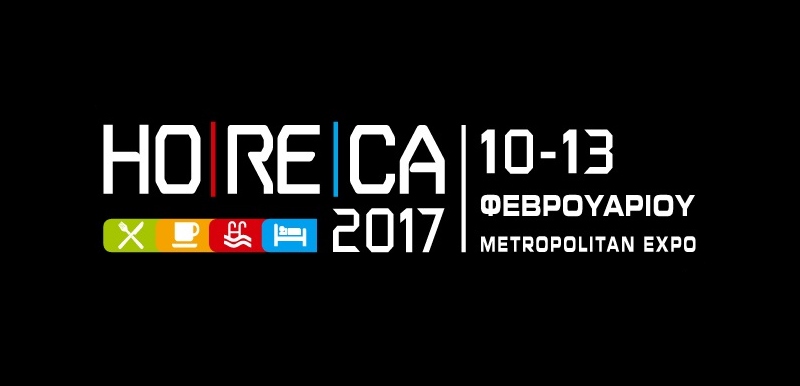 HORECA 2017
10 February 2017

-

13 February 2017
HORECA is a leading international exhibition for the provisioning and equipment of Hospitality and Foodservice companies. It is organised yearly and brings together Tourism professionals with the supply chain of Hospitality and Foodservice industry!
Being strongly supported by, and with the participation of the sector's major institutional bodies, HORECA has been consolidated as a great event of high prestige and importance, among the best of its kind in the world. Apart from being an undisputed institution, HORECA is rightfully considered as the most influential commercial forum for the tourist industry in Greece, the Balkans and Southeastern Europe.
Year by year, thousands of professionals from hotels, restaurants, cafeterias and other Hospitality and Foodservice companies across Greece, crowd the exhibition halls looking for new and innovative solutions of the supplying market in order to modernise, equip or renovate their businesses.

Moreover, HORECA is a live exhibition, a platform for innovations that aims at providing its visitors with high-end training and specialisation in their field through a series of special events targeted to each visitor category (seminars, master classes, open discussions, competitions and live demonstrations). Τo conclude, HORECA is the great yearly meeting point for all Tourism, Gastronomy and Coffee industry professionals!
Visit Mathios Refractories at HALL 2- Stand C38
Η HORECA είναι μια μεγάλη διεθνής έκθεση για την τροφοδοσία και τον εξοπλισμό των Ξενοδοχείων και των χώρων Μαζικής Εστίασης. Διοργανώνεται κάθε χρόνο και φέρνει σε επαφή τους επαγγελματίες του Τουρισμού με ολόκληρη την προμηθευτική αλυσίδα του Hospitality και Foodservice industry!
Με την αμέριστη στήριξη και συμμετοχή των μεγαλύτερων θεσμικών φορέων του κλάδου έχει καταξιωθεί ώς μία σπουδαία διοργάνωση υψηλού κύρους και βαρύνουσας σημασίας, που αποτελεί μία από τις μεγαλύτερες και καλύτερες του είδους της διεθνώς. Πέρα από ένα κορυφαίο θεσμικό γεγονός, όμως θεωρείται δικαίως και το σημαντικότερο εμπορικό φόρουμ για την τουριστική βιομηχανία σε Ελλάδα, Βαλκάνια και Νοτιοανατολική Ευρώπη.
Κάθε χρόνο, δεκάδες χιλιάδες επαγγελματίες επισκέπτες από ξενοδοχεία, τουριστικά καταλύματα, εστιατόρια, καφετέριες και συναφείς χώρους Ξενοδοχίας και Εστίασης από κάθε γωνιά της Ελλάδας, πλημμυρίζουν τους διαδρόμους της έκθεσης αναζητώντας όλες τις νέες και καινοτόμες λύσεις της προμηθευτικής αγοράς, για να εκσυγχρονίσουν, να εξοπλίσουν ή να ανακαινίσουν τις επιχειρήσεις τους.
Συγχρόνως, όμως, η HORECA είναι μία ζωντανή έκθεση, με έντονο παλμό, μια πλατφόρμα καινοτομιών και εξελίξεων, που στοχεύει συγχρόνως στην κατάρτιση, την εξειδίκευση και την αέναη εκπαίδευση κάθε επαγγελματία επισκέπτη της, μέσα από στοχευμένες εκδηλώσεις για κάθε κατηγορία επισκεπτών, (σεμινάρια, master classes, ανοιχτές συζητήσεις, διαγωνισμούς και live επιδείξεις). Αποτελεί, εν κατακλείδει, τη μεγάλη ετήσια γιορτή για όλους τους ανθρώπους του Τουρισμού, της Γαστρονομίας και της Καφεστίασης, που την υποδέχονται κάθε xρόνο με τον ίδιο, αμείωτο ενθουσιασμό!
Η ΜΑΘΙΟΣ ΠΥΡΙΜΑΧΑ σας περιμένει για μία ακόμη χρονιά, HALL 2 , Stand C38