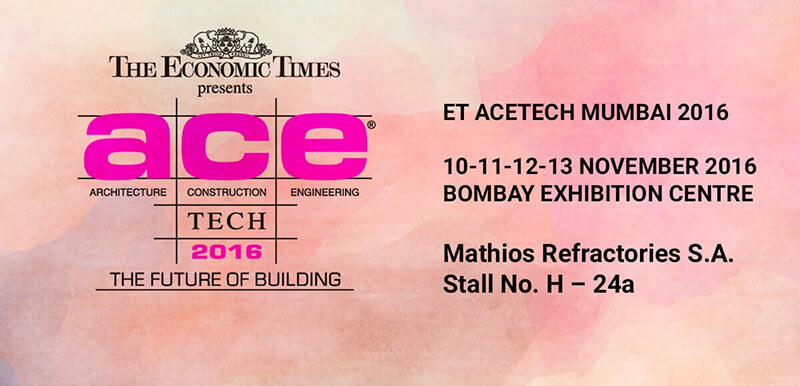 The Economic Times ACETECH 2016
10 November 2016

-

13 November 2016
Stall No. H – 24a
The Economic Times ACETECH is a leading trade fair in Asia for architecture, building materials, innovation and design and only third-of-its-kind in the world. This unique forum offers opportunities to not just exhibit but also to create a long-lasting impression on the decision makers of the architecture, building materials, innovation and design industries. The scale of the exhibition has been phenomenal and is growing exponentially. Each year, ET ACETECH witnesses the finest national and international brands, eminent architects, real estate developers, hoteliers, equity investors, builders, engineers and designers from India and the world. Top government authorities and stalwarts of the said industries have graced the event over the years, right from Shri Nitin Gadkari, Honourable Union Minister of Road Transport, Highways and Shipping, who attended the grand inauguration of ET ACETECH Delhi, 2015 to International Designer, Karim Rashid, who graced the exhibition, both at Delhi and Mumbai and added verve, right from the very first day of the exhibitions.
Besides, Shri. Devendra Fadnavis, Chief Minister of Maharashtra, Shri. Venkaiah Naidu, Union Minister of Urban Development, Shri. Prakash Jawadekar, Hon'ble Minister of Environment & Forests and Climate Change, have attended the exhibitions across Mumbai, Delhi and Bengaluru.
ET ACETECH curates an exclusive exhibition to incubate and support innovation in the industry. Exhibitors from around the world showcase their potential by providing detailed demonstrations of latest products and services within industry segmented pavilions. The allied events and conferences held during the exhibition, aim to bring industry leaders and government bodies together to network, exchange ideas and invest in a progressive nation-building activity.
The contribution of the construction sector to India's GDP continues to soar Y-O-Y, and with so much buzz around PM's plan to build 100 smart cities, there are innumerable opportunities for developers and architects to create a blueprint for a progressive India. The Economic Times ACETECH is thereby an enabler that creates a knowledge-sharing platform and a global market to propagate business development of its participants.
For an effective marketing tool and networking forum, look no further than The Economic Times ACETECH 2016!